With over 83 years of continuous operation, Thornthwaite work closely with architects, designers, and ESD (ecologically sustainable development) specialists to provide solutions that significantly reduce water and energy usage and operating costs for all levels of government, education, and the private sector.
From large aquatic centres where an estimated 5 million litres of water per annum can be saved, to sporting pavilions and end-of-trip facilities which can still save approximately 48% of water and energy costs (see below), our Rada and Presto branded products are stylish, robust and most importantly water and energy efficient.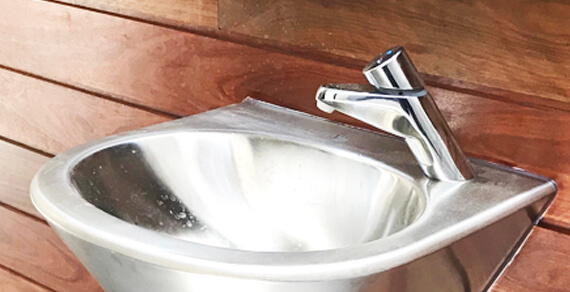 Presto Taps Save Water and Energy
Whether push-button, lever action or sensor operated – Presto tapware shut off automatically, preventing taps dripping or trickling when not turned off properly or maliciously left running.
A traditional (manually operated) tap can waste an enormous volume of water. Where water used is hot or warm water additionally there is significant energy (to heat the water) wasted.
Rada Pulse Sensor activated timed control shower systems
Used widely throughout Australia, from large sporting facilities, major aquatic centres, council sporting pavilions and for end-of trip facilities, the Rada Pulse shower system features a facility-specific programmed shower run time but importantly a shorter "lock-out" or "block-out time" which prevents end-users from immediately reactivating the shower.
Compared to a manual shower running for on average 5.5 minutes, the Rada Pulse system running for 3 minutes, will potentially save facilities more than 48% of water and energy usage.
With energy costs continuing to rise, a reduction in water usage equates to a similar percentage reduction in the cost of electricity or gas required to heat water from cold to warm or hot. For some facilities the energy cost actually exceeds the cost of water used.